Construction Case
Introduction of voice of construction case using our wood and customer's pleasure
Mr./Ms. A: Certain place in Nara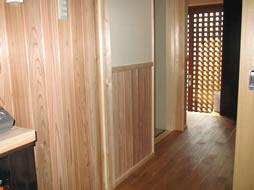 "Satisfy it with the height of the quality of the wood."
I the overall reform home several months ago.
Because I had been working several times with Ootani, the goodness of the quality of the wood was relieved. I thought that I exactly made "wooden house" when thinking how to make the best use of the wood.
I do not apply the extra one at all, and do not paste it. I complete the house where it lives with the tree with the tree, and satisfy it very much.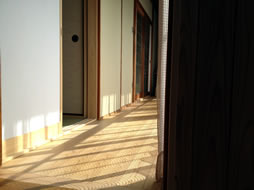 "The air conditioner doesn't need in winter as it is warm either."
It made to the house that is built with wood, there is warmth of the tree, and, anyway, it is warm in winter.
It is at the end of February that took the photograph. I do not run an air conditioner in daytime.
I feel that it is every day because the tree warms the house.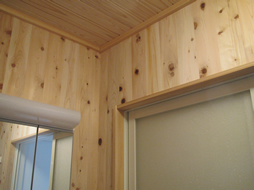 "House where children's lives are defended"
How often it is said might burn soon by the house that is built with wood! However, there is no such a thing. The tree doesn't burn in ignite the tree by me having dropped the lighted match by a considerably serious thing.
It is because a small fire spreads to the urethane and crossing in the cause in which a fire happens. In addition, the generated harmful gas is most causes of the death as a result.
Because my grandchildren often come to my home to play, I think about safety, and almost use neither heat insulator nor the vinyl cloth. Exactly, it is "House where children's lives are defended. "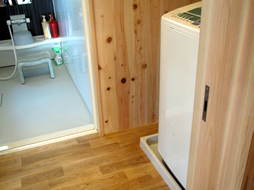 "There is no lie spuriousness in "Most tree" "
As shown in seeing undressing and lavatory it. All are the surprises. The dehumidification dryer etc. also put, and it devises it. There is no problem because the permeability of the tree is originally good. And it is warm.
As you see, my home is only a tree even if it sees where. Of course, it achieved it because there was a wood in Ootani who treated a certain brand "Yoishino-Sugi and Hinoki". It is really large satisfactory though seems to be tenacious. It would be greatly appreciated if the goodness of "wooden house" for you who saw my home could be reviewed again.