Company Overview
Company Name
Ootani Ltd.

Address
Main Office:
97 Yoshinoyama, Yoshino-cho, Yoshino-gun, Nara

TEL: 0746-32-5433
FAX: 0746-32-1176
Established
April 1st, 1996

Capital
\10,000,000

Representative
Sunawo Otani, CEO

Employees
15
Business
1.Lumber,
2.Building materials
3.Precious woods
4.Sales of construction materials
5.Manufacture and sales of laminated wood
6.Production of raw materials
Patent No. 11615 (General-7), Nara Prefectural Governor
Banks
Risona Bank
History
| | |
| --- | --- |
| 1990 | Purchased new factory |
| 1994 | Introduced first period facilities |
| 1996 | Established Otani Co., Ltd. Implemented second period facilities |
| 1997 | Completed first exhibition area |
| 1998 | Began wood construction business |
| 2000 | Introduced computer equipment |
| 2001 | Opened homepage, began internet sales |
| 2002 | Constructed second warehouse in Higaimoto, Oyodo-cho along with second exhibition area |
| 2004 | Completed third exhibition area, registered with the Nara prefectural and Kansai area small and medium enterprise databases |
| 2004 | Joined the PurtyCiub life benefit society |
Management Philisophy
Showing the goodness and importance of wood to everyone in the nation through the sales of Yoshino sugi and hinoki.
Greetings from the President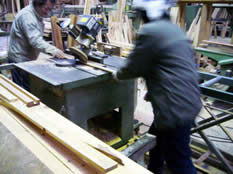 Situated in the historic Yoshinoyama of Yoshino-ch? in Nara, our company has always appreciated the patronage of its customers as a manufacturer of Yoshino lumber.
My grandfather began our business in 1939 as ?tani Lumber and in 1950 my father began managing the business as ?tani Woodworking. I am now the third generation.
We have appreciated your business over the past 57 years and have done our best with each generation to satisfy our customer's needs with high quality and low prices.
From this history, ?tani Ltd. was established on January 13th, 1995. On April 1st,1996 the company's name was changed to ?tani Co., Ltd. and was reorganized as we move forward with lines of business that are suitable for operation as a lumber department store.
Our company was once focused on the production of basic construction materials but we have now begun to work in wood drying and processing for interior design.
We want to do our utmost in offering you quality wood products from the beautiful forests of Yoshino at a low price.
We hope to do business with you in the near future.

アクセスマップ